I saw this post on Facebook and i thought it wise to share as i can totally relate to it.the constant image the media is painting about body weight is absurd and am not in support of thin as healthy but then i am totally against Fat as healthy, you have to try and be moderate.
Although the above case does not relate to me i have my own ordeal which i would share with you, My cousin and I have been trying to lose weight so we decided to try slimming tea. My cousin who believes that the more expensive the tea is, the higher the chances of it been effective( don't look at me like that joor, we all have this believe that the more painful a drug is the more effective it is), I took the tea that night and the next morning before leaving for work. Usually i leave for work around 7 am and that morning i made proper use of the convenience before i left the house. To cut the long story short, i purged like never before. I recall even losing my sunshades as if fell into the toilet in one of the malls where i deposited my signature for that day (covers face) and that was the day i vowed never to use slimming tea again.
Well i know a lot of us have decided to use this medium to lose weight because of the benefits but the same benefits are also found in pure teas such as green tea, white tea, black tea and others. It has been scientifically proven that tea contains antioxidants that aid in good health. Both pure teas and slimming teas contain polyphenols that aid in the fat burning process, stimulating weight loss.
Unlike pure tea, slimming tea has risks as it contains less than 25% tea and more of natural herbs which includes laxative and laxatives have been advised not to be used as a diet supplement.
One of the most common laxatives included in slimming tea is senna among others. Senna is considered safe for occasional moderate usage but it can be a very dangerous herbal supplement when taken too often for its laxative or weight loss effects. According to Dr. Bénédicte Vanderperren Senna plants have been known in extreme cases to cause liver failure, also most of the slimming teas contain caffeine the idea that the stimulants in these herbal teas can speed up your metabolism and burn fat faster is what sells them. In reality, no studies have proven any appreciable weight loss through the use of these kinds of stimulants.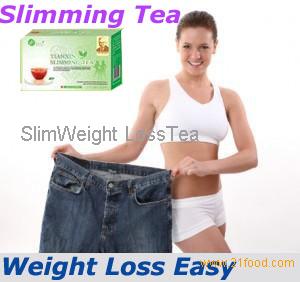 Herbal slimming teas only "work" in the short run, they will help you loose what we call water weight and once you stop using the tea you regain them in a couple of months, so i really don't see any benefit in them (except you want to take a sick leave and you need to convince your boss. lol), but then again i have heard people who said they had an amazing results while using them, so i guess the buck stops with you.
you should know that prolonged use can lead to serious health problems such as laxative dependence, dehydration and malnutrition. In extreme cases, overuse of laxatives can cause the colon to shut down completely, which requires it to be removed.
So my take is simple, if you want to lose weight follow this simple phrase EAT LESS AND EXERCISE MORE